The first band release for the festival of 2022!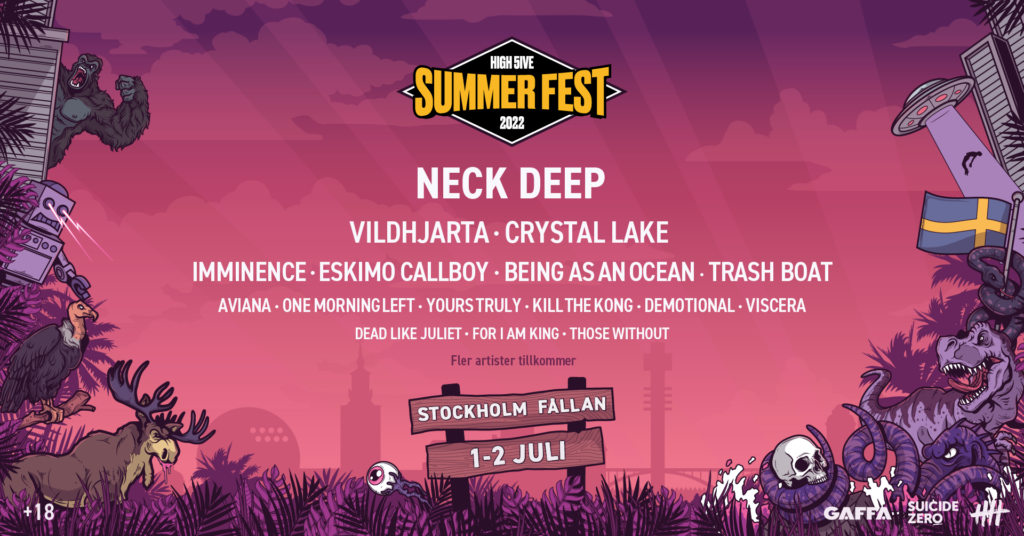 High 5ive Summer Fest, Scandinavia's only festival focusing on Metalcore, Hardcore and Emo was defeated by the pandemic 2 years in a row when the festival was forced to cancel 2020 and 2021. Now the festival presents the first 16 artists who will join up in Stockholm on 1- 2 July 2022.
– "We have done everything we can to get the absolute best lineup we could for the summer fest. We have had both luck and bad luck. We have been able to reconfirm some bands that would have played in 2020/2021, and others we haven't because of logistical reasons. There will also be a lot of new, exclusive and cool things that we look forward to a lot! " says Stoffe Johansson, Festival booker.
New for 2022 is that the festival moves to the Slaughterhouse area and will take place at the new arena "Fållan" where it can accommodate 1800 people. A venue that is equipped with 2 stages, a slightly smaller stage and a larger main stage. We will also have an exclusive outdoor festival area on site during the High 5ive Summer Fest on 1-2 July.
– "It will be a packed schedule spread out over two days. In addition to all the awesome artists, we will have a series of different happenings, interviews, signing sessions and other fun stuff happening at the festival, where you can also eat, drink, hang out with your friends and just have good fun between the bands. " continues Maja Jogre, project manager for the festival.
Some of the main acts presented so far at the festival in 2022 are the British pop punk band Neck Deep, which performs an exclusive concert in Scandinavia. Together with the album-current progressive Metal band Vildhjarta, which makes their only gig in Sweden 2022 at the festival and the Japanese Metalcore sensation Crystal Lake, and not to be missed, the German partycore band Eskimo Callboy, and many more, there are a lot of special acts to look forward to.
High 5ive Summer Fest is What? A festival Where? Fållan, Slakthusområdet in Stockholm When? 1 and 2 Juli of 2022 Artists: Neck Deep, Vildhjarta, Crystal Lake, Eskimo Callboy, Imminence, Trash Boat, Being As An Ocean, Aviana, and more.
Festival pass (2-days) 895 SEK + service fee. One day-ticket (Friday or Saturday) 595 SEK + service fee.
Best regards, Stoffe, Maja, Therese, Nicklas and the rest of High 5ive Summer Fest Crew.